BDIX is the short version of Bangladesh Internet Exchange. BDIX is the first Internet Exchange Point (IXP) in Bangladesh. It was created in order to provide physical connectivity to members of its network to exchange information as well as connect local-based Internet information locally using it. At present more than 115 companies of all sorts (ISPs and mobile operators, media companies as well as ISPs) are connected to the BDIX network.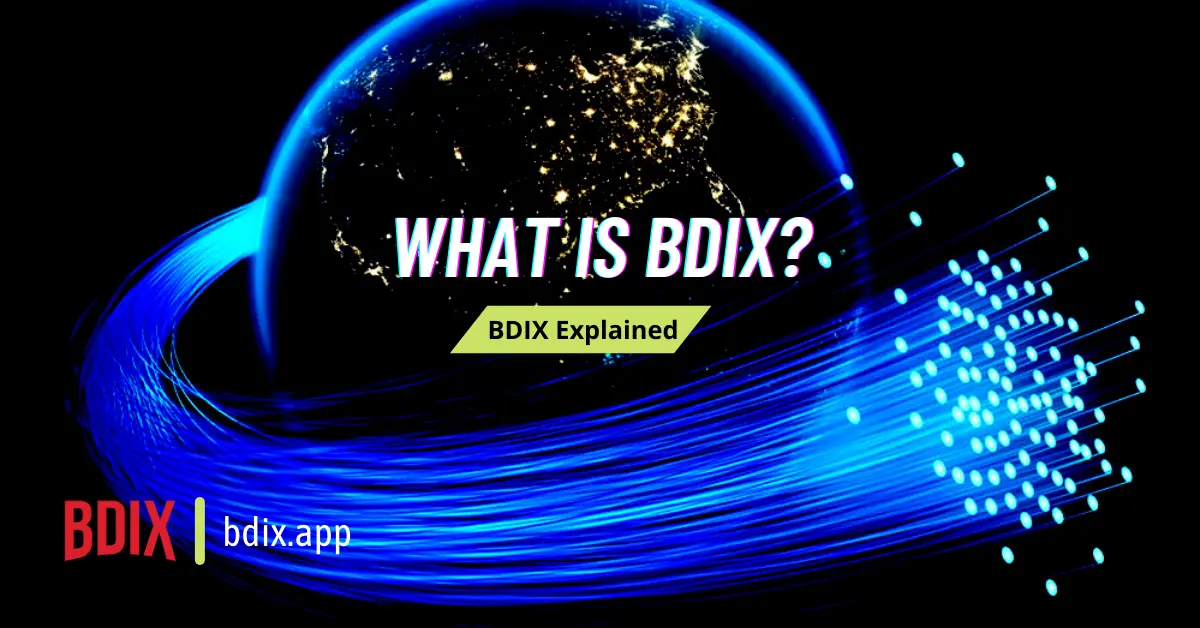 BDIX is a non-profit enterprise that is part of the Sustainable Development Networking Foundation (SDNF) Bangladesh.
What is Internet Exchange Point (IXP)?
Internet exchange points (IXPs) are the standard basis of IP networking, which allows participants Internet service providers (ISPs) to exchange data that is intended for their specific networks. In terms of organization, the majority of IXPs are independent, not-for-profit associations that represent their respective participating networks.
IXPs can reduce the percentage of traffic from an ISP that has to be delivered through the primary transport providers, thus reducing the cost per bit of delivery for their services. Additionally, the increase in the number of routes that are available through the IXP enhances the efficiency of routing (by permitting routers to choose shorter routes) and fault tolerance. IXPs show the features associated with the impact of networks.
How Does BDIX Works?
BDIX is a large Layer 2 LANs of OSI (Open Systems Interconnection) model, on which one or more physical locations contain network switches that route traffic between the different member's networks.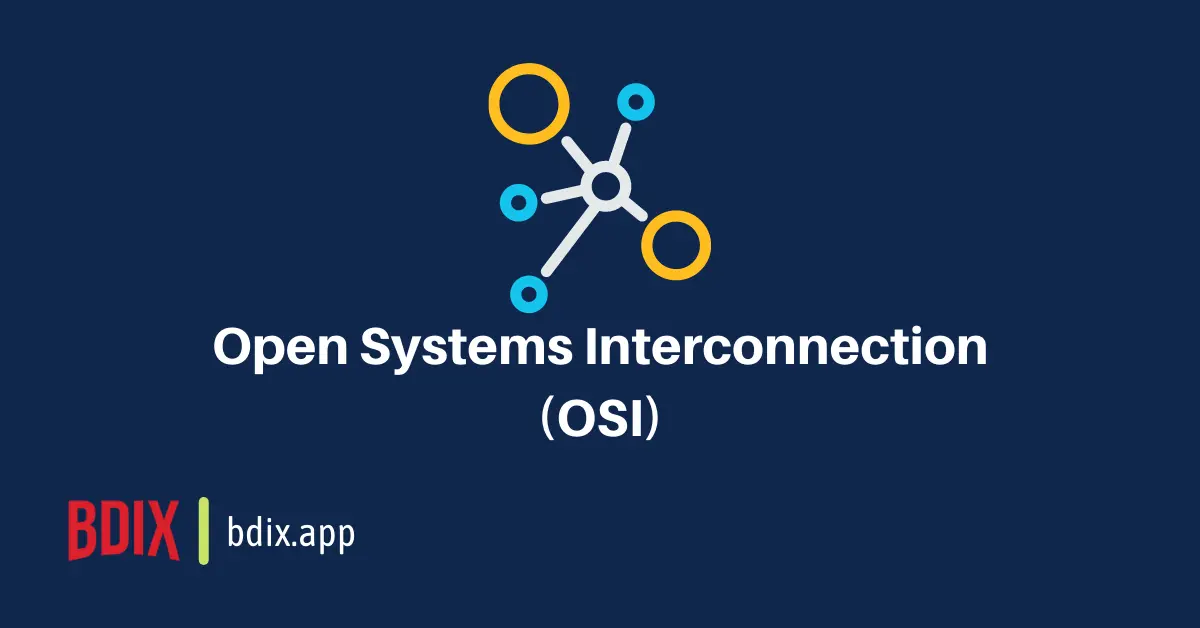 Throughout its entire existence, BDIX has maintained its leadership position in the fast-growing Internet sector in Bangladesh by offering high-quality services that provide speedy, cost-effective, and effective peering connections for its members as well as their customers.
Similar to many other IXPs in the world, BDIX operates on a fee for membership that is paid by connected members and is run for the benefit of members as well as the Internet community as a whole. To operate its financial operations, Members pay either a month-long or annual cost, typically dependent on the rate of speed at which they use the port that they use. The cost of membership is low in comparison to the potential savings of the upstream transportation costs for members.
BDIX Technical Features:
Layer 2 Technology: BDIX is a layer two Internet Exchange. Every member who is connected to BDIX is sharing data through the Layer Two technology.
Neutral Platform: Membership is available to many organizations. Organizations that are legally constituted and with an IP Block from APNIC with its own AS Number and with a Routing Device capable of running BGP can be a part of BDIX.
IPV4/6 Facility: Transfer of IPv4 or IPv6 traffic on the same infrastructure, and without any additional cost.
Port Choice: Members can choose the port capacity they require based on their requirements, ranging from 100MB to 1GB or 10GB ports.
BDIX Members ISP: Who are they?
BDIX Membership requires money and few other qualifications to become a member. Not all Internet Service Providers (ISP) in Bangladesh are members of BDIX. According to BDIX Official Website, there are only 116 organizations currently holding membership in the BDIX (See the list below).
Most of the ISP including Nationwide ISP, Zonal ISP (Central Zone ISP, South East Zone ISP, South West Zone ISP, North East Zone ISP, North West Zone ISP), Category ISP (Category A ISP, Category B ISP, Category C ISP) has access to through those 116 members. Basically, they buy BDIX Internet Bandwidth from BDIX member organizations to provide BDIX access to their customers.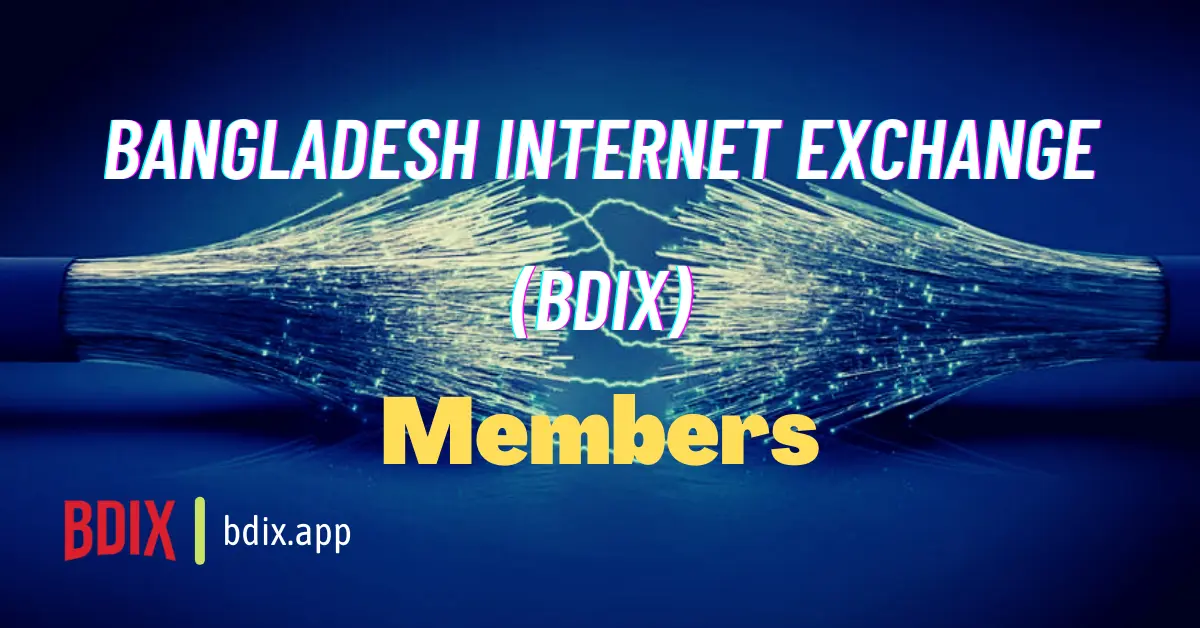 BDIX Members List
| | |
| --- | --- |
| | |
| | Address: Safura Tower (12th Floor) 20 Kemal Ataturk Avenue,Banani C/A Dhaka -1213. |
| | Suit#.901, Concord Tower, 113, Kazi Nazrul Islam Avenue, Dhaka-1000. |
| | Red Crescent Concord Tower (19th Floor), 17, Mohakhali C/A, Dhaka-1212. |
| | Eastern Trade Center (14th floor), 56 Purana Paltan Line, Dhaka-1000. |
| | 45, Navana Tower, 11th floor, Suite-A, Gulshan Avenue, Gulshan-1, Dhaka-1212. |
| | Chowdhury Mall, 5th Floor, 43 Hatkhola Rd, Tikatuli Dhaka. |
| Always On Network Bangladesh | House- CWN(B)-6, Road No-36, Gulshan-2, Dhaka-1212. |
| | Shaan Tower (3rd Floor), Chamelibag, Shantinagar, Chowrasta, Dhaka. |
| | Nabodoy Housing,8/7 Road/5 Block-B Adabor Dhaka |
| | 70, LAKE CIRCUS (4TH FL.), KALABAGAN, DHAKA-1205. |
| Asia Pacific Communication Ltd. | Siraj Tower (5th Floor), Ta-114/1, Bir Uttam AK Khandakar Road (Gulshan1-Badda Link Road), Middle Badda, Dhaka-1212. |
| Bangla Trac Communications Ltd | Plot-68 (Old-45), Block-H, Road-11, Banani, Dhaka-1213. |
| Bangladesh Online Ltd. (BOL) | SAM TOWER, Level 8, Plot 4 Rd 22, Dhaka-1212. |
| Bangladesh Telecommunications Company Limited (BTCL) | Telejogajog Bhaban, 37/E, Eskaton Garden, Dhaka. |
| | Tigers' Den, House 4 (SW), Bir Uttam Mir Shawkat Sharak Gulshan 1, Dhaka-1212. |
| | Floor House # 1, BDCOM Online Ltd., JL Bhaban, 5th, Road # 1 Gulshan Ave, Dhaka-1212. |
| | 52, Gulshan South Avenue, Silver Tower (15th Floor), Gushan-1, Dhaka-1212. |
| | Vasa Sainik Abdur Rashid Torkabagish Sarak Dhanmondi 5 RA 13/1 Fatema Arcade, 2nd Floor, Dhaka-1205. |
| | 245, SK. Sharif Uddin Super Market, (3rd Floor), Nawab Bari Road, Bogra-5800. |
| | Plot-7/1, Block-A, Mohammadpur Housing Estate, P.O, and P.S:- Mohammadpur, Dhaka-1207. |
| Bright Technologies Limited | House No: 45, Road No: 16 (new), 27 (Old) Dhanmondi Dhaka-1209. |
| Broad Band Telecom Services Ltd.(BBTS) | Ispahani Building (5th Floor), Sk. Mujib Road, Agrabad C/A, Chittaong-4100. |
| BTS Communications (BD) Ltd. | Swapnil 4, Safeway Complex (3rd floor), Mirjajangal, Sylhet-3100. |
| | 40/2, Meradia, Khilgaon, Dhaka. |
| | Imdad Villa, 128, Chandanpura, Chittagong-4100. |
| | Unity Trade Centre (3rd floor), Dendabar, Ashulia, Savar, Dhaka-1344. |
| | House: 43, Road: 18, Sector: 07, Uttara, Dhaka-1230. |
| | H.S.S Road, Somobay Market, Jhenaidah-7300. |
| | Akash Plaza House -21, Room-602, Road-7/D, Sector-9, Uttara, Dhaka. |
| Cosmopolitan Communication Ltd. | H.A.K Tower, 3/C Kawran Bazar C/A, Dhaka-1215. |
| | 19 (1st Floor) Main Road, Kollyanpur, Mirpur, Dhaka. |
| | 64/3 Lake Circuse, Kalabagan, Dhaka-1205. |
| | 45, Gulshan South, Circle-1, Navana Tower (7 Th Floor), Dhaka-1212. |
| | House # 22, Road # 13/C, Block # E, Banani, Dhaka-1213. |
| | 89/2, West Panthapath, Haque Chamber, Suit-10A, Dhaka. |
| | Lotus Kamal Tower, (Level-9), 57 Joar Shahara C/A, Nikunja-2, New Airport Road, Dhaka. |
| | 18th Floor, Awal Center, 34, Kamal Ataturk Avenue, Banani C/A, Dhaka-1213. |
| | 322 Nowab Shirajuddullah Road, Chandanpura, Chawakbazar, Chittagong. |
| | Haji Siraj Tower,Madhabdi Bazar, Madhabdi, Narsingdi. |
| | Polpar, House # 350 Jafrabad - Sanker Rd, Dhaka-1207. |
| | House 58, Road 15/A, Dhanmondi, Dhaka-1209. |
| | House-73 (3rd Floor),Road-13A, Block-D, Banani, Dhaka-1213. |
| | Surma Tower, Sylhet-3100. |
| | Holding - 483, SS Road, 3, Sirajganj Sadar, Sirajganj-6700. |
| | Suite 16c, (16th Floor Navana Tower 45, 1 Gulshan Ave, Dhaka-1212. |
| Gateway Online Access Ltd | RH Home Center (Suite # 9B02, Plot # 74/B/1), 9th Floor, Green Rd, Dhaka-1215. |
| | 4th Floor, RM Center, 101 Gulshan Ave, Dhaka-1212. |
| | GPHOUSE, Bashundhara, Baridhara, Dhaka-1229. |
| | Kabi Nazrul Islam Road, Jhowtola, Bogra. |
| | Building 1/C, 1st & 2nd Floor, Road 10, Baridhara, Dhaka-1212. |
| | 729 Shisu Park Road. Munshigonj-1500. |
| | Plot: 15-18, Lane-06, Block-D, Pallabi, Mirpur-12, Dhaka. |
| | Mohakhali Tower (4th Floor), 82 Mohakhali C/A, Dhaka - 1212. |
| | 56-57 Motijheel C/A, Shareef Mansion(6th Floor), Dhaka-1000. |
| | 42, Kemal Ataturk Avenue IQBAL center (5th floor) Banani Dhaka-1213. |
| | Urban Rose, Flat# 3A, House 61, Road 27, Gulshan 1, Dhaka-1212. |
| | 29 Subash Bose Avenue, Luxmibazar, Sutrapur, Dhaka-1100. |
| | House#008 (Ground Floor), Bangabandhu Road, Professor Para, Joypurhat-5900. |
| | Uday Tower (9th Floor), Plot # 57 & 57/A), Gulshan Avenue, Dhaka-1212. |
| | 1,2 Hazi Gafur Avenue, Amulia Model Town, Demra, Dhaka-1360. |
| Information Services Network Ltd (ISN) | TMC Building (4th floor), 52, New Eskaton Road, Dhaka-1000. |
| Innovative Online Limited | Jiban Bima Bhaban (5th Floor), 56 Agrabad C/A, Chittagong-4100. |
| | House#50, Road#11, Block-F, Bir Uttam Khadimul Bashar Sarak, Banani, Dhaka-1213. |
| Intrepid Broadband Communication Company Ltd. (IBCCL) | House 83, Road #06, Ground Floor, Block C, Banani, Dhaka. |
| | House 43/A, Rd 24, Gulshan, Dhaka-1212. |
| Kloud Technologies Limited | Level-04, Venture tower, Plot-03, Bir Uttam A.K Khandakar RoadMohakhali, C/A, Dhaka-1212. |
| | Principle Park, 11/7/G, Free School Street, Kathal Bagan, Box Culvert Road, Dhaka-1205. |
| | 16th Floor, Bulu Ocean Tower, 40 Kemal Ataturk Avenue, Banani, Dhaka-1213. |
| | 82, Bir Uttam, Mohakhali C/A, 12th Floor, Dhaka-1212. |
| | North Dharma Shova, South Puthighar, West Dhorma Shova, Station Road, Rangpur. |
| | House # 123, Flat # B4, Road # 13/A, West Dhanmondi, Dhaka. |
| | PBL Tower (13th Floor), 17(New) Gulshan North C/A,Dhaka-1212. |
| | 18 Purana Paltan, Paltan Plaza, (4th Floor) Dhaka-1000. |
| | Hasnabad High School Road, Hasnabad, South Keranigonj, Dhaka-1311. |
| | Ground Floor, House 120, Flat A3, Banker's Row, Dhaka-1215. |
| | House-4(2nd Floor), Road-15,Block-D,Banani, Dhaka-1213. |
| | 6, Flat, 44F, 402, West Panthapath, Dhaka-1215. |
| | Plot 9, Road 113/A, Gulshan, Dhaka. |
| Noakhali Broadband Network | Momo Central Point, Housing Central Road, Housing State,Noakhali-3800. |
| | Nitol Niloy Center, 71 Mohakhali (12th Floor), Dhaka-1212. |
| One Sky Communication Ltd. | S.A Bhaban (6th Floor), 115/23 Motijheel Circular Road, Dhaka-1000. |
| Optimax Communication Ltd | House - 06, Road - 28, Block - K, Banani, Dhaka-1213. |
| | Alhamra International,(6th Floor). Zindabazar,Sylhet-3100. |
| Packet Clearing House (PCH) | 932 Parker St #3, Berkeley, California 94710, USA |
| | House 34, Road 1 Block A, Dhaka-1219. |
| | Cha-21/2, Uttar Badda, Dhaka-1212. |
| Prisma Digital NetWork Ltd | Awal Center, Banani, Dhaka-1213. |
| | Khawaja Tower, 95, Bir Uttam AK Khandakar Rd, Dhaka-1212. |
| Radiant Communications Ltd | Suite #D:5- 6, House#15. Road #17 Banani C/A, Dhaka-1213. |
| Ranks Information Technology and Telecommunications Ltd | 117/A (LEVEL-5), OLD AIRPURT ROAD, BIJOY SHARANI, TEJGAON, DHAKA-1215. |
| | Gulshan Avenue, Dhaka-1212. |
| | 114, Motijheel C/A, ( Level 9), Dhaka-1000. |
| | Dinajpur Sadar, Dinajpur. |
| | Swantex Court Bhaban, 9/1, Dhaka-1000. |
| | Ta-98/c, Link Road, Middle Badda, Gulshan, Dhaka-1212. |
| | Avijan 96, College Road, Tongi, Gazipur. |
| | House 88 (Zodiac Palace), Ganakpara, Saheb Bazar, Ghoramara, Boalia, Rajshahi-6100. |
| | Kalitola Road(Near Chember of Commerce)Naogaon Sadar, Naogaon-6500. |
| | 5th floor, Morshed alam comple, Chowmuhani, Noakhali. |
| | Amina Tower, 38 Jatra Bari, Dhaka-1204. |
| | Square Centre (11th Floor), 48, Mohakhali C/A Dhaka-1212. |
| | |
| Stargate Communication Ltd | 52/1, Hasan Holding (3rd Floor), New Eskaton Road, Banglamotor, Dhaka-1000. |
| Sustainable Development Networking Foundation (SDNF) | Firoz Tower, 152/3 Panthapath, Dhaka-1205. |
| Systems Solutions & Development Technologies Ltd. (SSD-Tech) | Uday Tower, Level 12, 57 & 57/A, Gulshan Avenue, Dhaka-1212. |
| | Takia Center. (8th Floor & 9th Floor) House:39, Sonargaon Janapath Road Sector- 07, Uttara, Sonargaon Janapath, Dhaka-1230. |
| | Motaleb Tower, Suite #A (2nd Floor), 8/2 Paribag, Hatirpool, Dhaka-1000. |
| | Wakil Tower (7th Floor Ta, 131 Gulshan Badda Link Rd, Dhaka-1212. |
| | |
| | 7/B Gaus Nagar Road, New Eskaton, Ramna, Dhaka-1000. |
| University Grants Commission (UGC/BdREN) | UGC Bhaban, Room#529, 29/1, Agargaon, Sher-e-Bangla Nagar, Dhaka-1207. |
| | Arman Center, 1st Floor, Shahid Amin Uddin Rd, Pabna-6600. |
| Weblink Communications Ltd. | House#101, 6th floor, Road#13/A, Block:C, Banani, Dhaka. |
| | House # 52, Rd 28, 1st floor Suite-1-B, Gulshan-1, Dhaka-1212. |
| | Awal Center (17th Flr.) 34, Kamal Ataturk Avenue, Banani, C/A, Dhaka-1213. |
| | Rupayan S Bally, Narayanganj Hwy, Narayanganj. |
FREQUENTLY ASKED QUESTIONS