Amber IT Limited is one of the leading Nationwide Internet Service providers in Bangladesh. Amber IT offers broadband internet for home, corporate, and SME users with BDIX and Free OTT add-ons. They also provide IP Phone services which are known as Amber IT IP Phone.
Amber IT Limited, led by Mr. Mohammad Aminul Hakim is a concern of Amber Group and an affiliated member of BASIS.
You can find other ISP (Internet Service Providers) in our ISP Directory.
Amber IT Internet
Amber IT offers three types of Internet Services, which are Home Internet, Corporate Internet, and SME Internet. Let's explore it.
Amber IT Home Internet
Amber IT offers a wide range of Internet packages for home users. All home Internet users enjoy BDIX FTP, 24/7 customer care support, and online payment support. With some of the packages, clients have access to some of the best OTT services as EXTRA. Let's have a look at Amber IT Packages.
[wptb id=357]

Amber IT Corporate Internet
Amber IT is a well-reputed company for corporate users. It offers to offer a full range of fast, superfast, and ultrafast broadband packages. Following add-on services are also available to corporate users –
Cloud IP-PBX – (Free PBX system by connecting to IP-PBX platform)
Free Talk Time
Domain Name Registration – (Establish your business identity)
Web Hosting – (Hosting for website & Domain-Associated Email Address)
Safe DNS – (control internet access in your organization)
Barracuda – (Shields against email-borne viruses, malware, and spam)
Redundant Link
Video Conferencing
Complimentary Home Internet
Web Application Firewall (WAF) – (Protect your websites and applications against fraud or data theft)
Data Connectivity – (Leading-edge MPLS technology for absolute privacy)
Amber IT SME Internet
Amber IT offers Super Fast Optical Fiber Internet Connectivity with Real IP Right to Small & Medium Enterprise. These packages are known as SPARK (30 Mbps at 2000/-), FLAME (40 Mbps at 2500/-), and BLAZE (50 Mbps at 3000/-).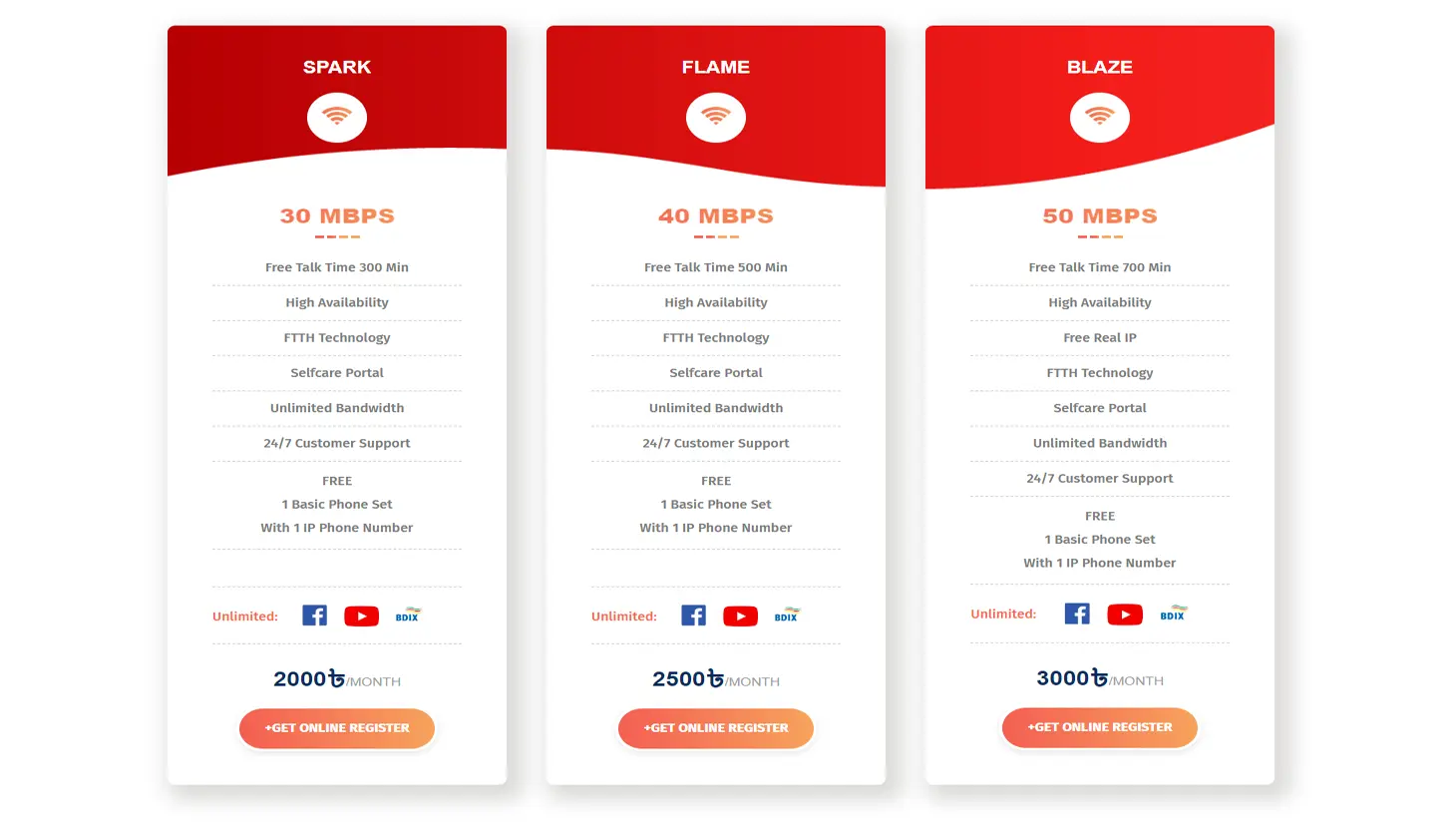 Amber IT Coverage Area
As we mentioned before, Amber IT is a Nationwide ISP. Currently, they are serving in some of the major districts of Bangladesh. To learn more about Aber IT Coverage Area, please click here.
Amber IT IP Phone
Amber IT is a licensed IP Telephony Service Provider (IPTSP) provider in Bangladesh, which is known as Amber IT IP Phone. Their IP Phone Number starts with 09611. You can enjoy 40 paisa per minute call rate in any number in Bangladesh with every second pulse.  Amber IT IP Phone also gives you the chance to call other IP Numbers for FREE. Amber IT IP Phone app is available for Android and iOS. Amber IT IP Phone could be used with MicroSIP Dialer.
Get Amber IP Phone
IP Phone services are known for low call rates and voice quality. To get started with Amber IT IP Phone, you just need to download the Amber IP Phone app from Google Play or App Store. There is no sign-up fee for Amber IT IP Phone. You just need a local operator number and your valid NID card to create a new account.
First, you need to provide your local phone number to get the OTP to get started. After verifying the OTP, you need to upload your Profile photo, Name, NID card number, NID front side photo, and NID back side photo.
Once you open your account, it may take 24 to 74 hours to get verified. Please note that only one account can be activated with one NID card.
Once your account is verified, you can top up your Amber IT IP Phone account balance by using any Mobile Banking Wallet (bKash, Nagad, Rocket, etc).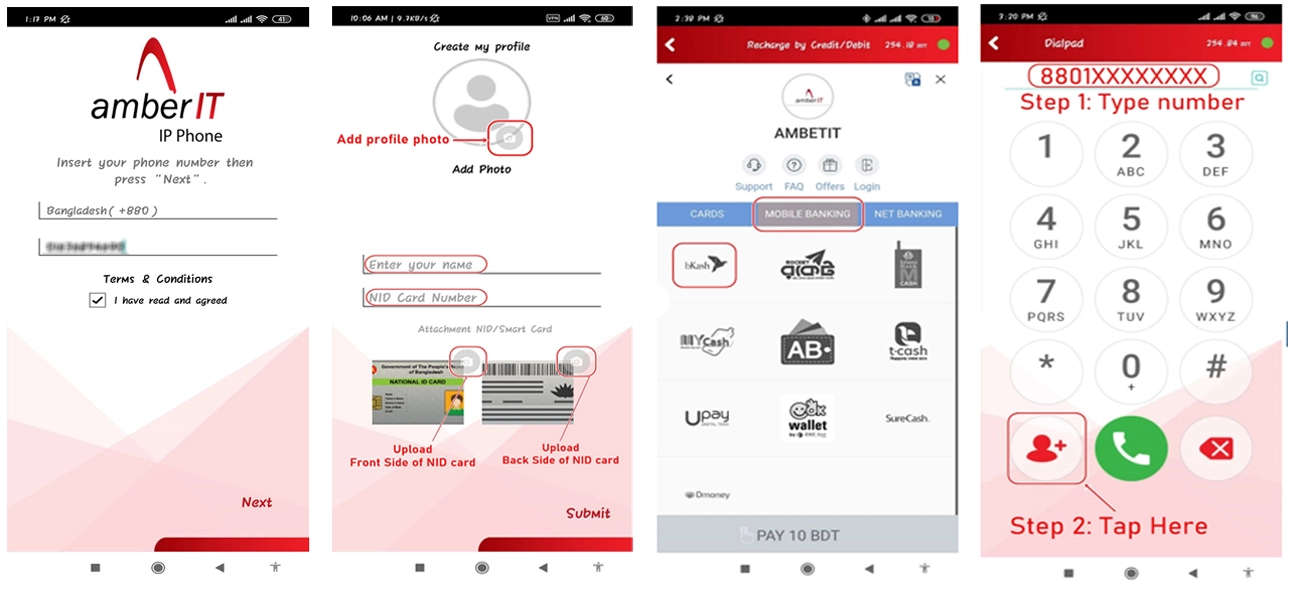 Amber IT IP Phone Features
Get 10 taka account balances after NID verification.
40 paisa per minute call rate. (15% VAT applicable).
Every second pulse.
FREE talk to any IP number.
No expiry date for the account balance.
Share files and make video calls, audio calls & group chats.
Recharge with leading Mobile Banking (bKash, Nagad, Rocket).
Amber IT Contact/Support
Office Address
Amber IT Ltd.
Navana Tower (7th Floor)
45 Gulshan South C/A, Circle-1
Tel: (8802) 222264415, (880) 9611123123
Fax: (8802) 222264334
Email: [email protected]
Website: https://www.amberit.com.bd
Amber IT Login
Amber IT SelfCare: https://myswift.amberit.com.bd
Amber IT Billing
Bill Pay: https://www.amberit.com.bd/bill-pay
iTelSwitchPlus: https://billing.amberit.com.bd
Amber IT Support
Online Support Desk
WhatsApp: 01313488188
Viber: 01313488188
Facebook Messenger: AmberIT Limited Fan page (https://www.facebook.com/amberit247)
Email: [email protected]
Offline Support Desk
SMS: 01313488177 (Please send an SMS mentioning your CID Your Complain)
Voice Base Complain: 09611999555
Commercial Support: [email protected]
Ticketing System: http://ticketing.amberit.com.bd
Amber IT Mail Settings/Server
IMAP/POP3: mail.amberit.com.bd
DNS: ns3.amberit.com.bd (118.179.223.10),  ns4.amberit.com.bd (202.4.96.6)
Webmail: http://mail.amberit.com.bd
Change Password: http://mail.amberit.com.bd/cgi-bin/chetcpasswd.cgi
FAQ About Amber IT Limited